Edit: I made it not white, if you change modes. Enjoy. Working on editing the default.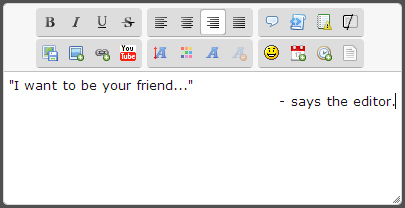 I'm sure you can see it. The white and 'modern' looking input box. I personally really don't like it, and it messes with my edits... It's unfortunately something that we can't turn off. And, if I'm reading right on the support forums, it's buggy. It's a beta, so it's still in testing. Which is kind of why I can't understand why they'd release it... So yeah, if you have problems, let me know.
Anyhow, if you're making long posts, you might want to write them on something like Notepad, or copy them before posting. I'm having no issues, but apparently some on other forums are. I'll edit it when I find out what works with it, but it looks like something we're stuck with...
I touched the colour thing and now I can't figure out how to get back to default colour on the editor... That's an issue. Annnnnnnnnd you can't use bbcode tags with it. Wtf... Okay, I am having issues now. You can turn off this silly WYSIWYG mode, if you're not into all this rich text junk.
To use your tags and have your old control back, like [color] and such, look out for this button:
It's the very end icon on the toolbar. Just a warning that the text goes light grey on the main reply page, but the quick reply doesn't.
But as I said, problems, let me know and I can throw them at the support forum. Or Risu can, as she is technically the owner...
More info:
http://help.forumotion.com/t124616-new-editor-for-forumotion-forums
_________________
̵̰͇̱̙̙̾͆͂͌͘ ̃̒̏͒̔͑͘҉̸͉̻̘͔̼̯̰͞ ̶̢̖̺̘̦͓̱͎̜̰͎͇͚̳̝̗̼̥̹̆ͯ͒͂ͦ̔ͤ̍ͭͩ̽̀͟ ̷̸̱̩̞̙̜̼͇̩̰̺̲̰̫̃͒ͪͧ̉̋̏̈̄̈̃̃̇̐̄̅͢͟͟ͅ ̴̣̲̭̙̖͇̭̣̪̰̟̦͕̳͍̼͚̰͔̿̐̋ͫ͛̈͊ͪͨ̓͢ ̛ͬ́͐̾ͧ̿̔̂̿̄̕͏̸͙͔̖͇͕͉̮̠̰͙͜S̨̛̯͚͉̠̤̗̠̥̰̪̠̰͈̹̦ͣͨͩ͂̊ͨ͒ͥ͗ͥ̕͝ͅY̷̧̲̠̲ͦͪ̌̒̅̌ͯ̌͊͡ͅS̷̨̡̪̰͓͍̬͙̯͓̥̬̞̳̯͎͙͚̑ͧ͂̈́ͤ̀̕T̶̛̠͍͓̭̺̫͇͎̗̫̝͇̻̘̆͂̾̋̽̊̇͑ͭ͋̃̏͂́́ͅȨ͖̗̠ͯ̊̂̈͆ͣ̏̋ͯ̑́̔̔̓͊ͣͩ͝M̵̲͕͎͖̭̘̫̝͕̼͙̗͈̯̦͖̈̿ͧ̈́͑̿͒̿͟ ̨̦̹͓̖̦̰͙̮͙̈́͂̿̂ͦ͘E̩̺̭͎̩̱̞̪͗ͣ̌̎ͩ̀̎͋̄̈̀͡ͅR̛͓̠̘͖̟̭̤͓̝̉ͤ̓ͤ̒ͩ̈́̓͜R̷̨̳͚̹̯̤̬̫̙̟̹̬̖͔̺͉͈̐̂ͬ͋̒́͠O̷͕̰͚͍͉̮͔̘̣͉̼̟̦̪ͣͥ̀ͧͪͯ͋ͥ̆͆̓̈́ͧͮͣ̃ͮ͐ͥR͉̩͙͙̤̫͍͍̖̲̓̊̑͌͌̀͑̓ͦ͐̅͐͒́͠ͅͅ ̸̹͓͚̖̥͍̝̻̰͓̱̝̭͉̈́̀̿ͦͨ̋͛́ͯͤͬ̏͋̊ͦ͑ ̧͊̏͂ͯ͐̒̎ͦ̇̐̋ͭ̇͏̘̟̠̬̭̞̫͓̰͘ ̨̡͎̜̘̹̬͇͍̠̲͎̤̗̘̻̔ͮ̓ͩ̉́̓͒ͦ̿̄͋ͬ͡ͅ ̧̡̤̠͔͉͓̙̤͎̖̖̰͔͙͚̞̰̻̯̈́̎̐ͪ̂̀ͭͫ̽̑ͪͧ̔ͣͥͦ͐́̕͜ͅ ̴̗̳̦̥̯̞͖͕̦ͪ̐̂̉̀́̓ͯ͌ͯ̊̄̈́̒̊̔̃ͪ́ ͧͪ̓̅ͨ͌ͭ͗ͦ̎̾͢҉̗̗͙̖̻̝̰̘̟͚̦̞̪
͂̐̐̎̈́ͭ͐̋̅͛ͦͭ̚͏̳̥̦͍̠̻͎̥͔̼͎͔͍̭̹̺͚̰̕ͅ
̽̎̑ͣͬͬ̊͋ͭ̓̏͏̢͏̵̫̗̯͚̖̼̘̼̰


Similar topics
---
Permissions in this forum:
You
cannot
reply to topics in this forum