Some of you might have noticed a bit of a change about our chatbox. It's as much a surprise to me and it is to you.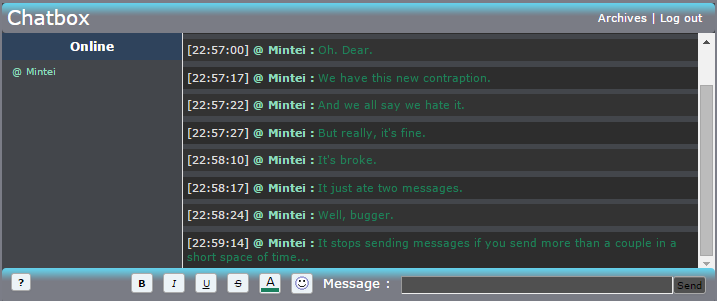 And, boy, is it buggy.
This is a beta.
So, the users should feedback any issues that the techs should check out, and suggest improvements.
If you're having issues with it, be it on a mobile device or a certain browser, if you could let me know as in much detail as possible, I can throw it onto the Forumotion support boards.
Obvious changes are the colour picker, the (broken and useless) archive, and a lack of ability to stop it refreshing. Oh, and you now have access to the chatbox command list.
(A couple of changes for us mod types, like we have a banlist and can mod people from the box. You don't need to know that stuff though ;D)
And yes, it currently lags really bad. I can't confirm if that's a design flaw, or if the Forumotion servers are struggling, as one of the later posts on the support forums suggests. And messages go missing. And it stops sending any messages from you if you send too many - you'll have to refresh the page. Sorry.
I can only suggest waiting out a bit, if the issues are a bother.
More info:
http://help.forumotion.com/t138766-new-chatbox
_________________
̵̰͇̱̙̙̾͆͂͌͘ ̃̒̏͒̔͑͘҉̸͉̻̘͔̼̯̰͞ ̶̢̖̺̘̦͓̱͎̜̰͎͇͚̳̝̗̼̥̹̆ͯ͒͂ͦ̔ͤ̍ͭͩ̽̀͟ ̷̸̱̩̞̙̜̼͇̩̰̺̲̰̫̃͒ͪͧ̉̋̏̈̄̈̃̃̇̐̄̅͢͟͟ͅ ̴̣̲̭̙̖͇̭̣̪̰̟̦͕̳͍̼͚̰͔̿̐̋ͫ͛̈͊ͪͨ̓͢ ̛ͬ́͐̾ͧ̿̔̂̿̄̕͏̸͙͔̖͇͕͉̮̠̰͙͜S̨̛̯͚͉̠̤̗̠̥̰̪̠̰͈̹̦ͣͨͩ͂̊ͨ͒ͥ͗ͥ̕͝ͅY̷̧̲̠̲ͦͪ̌̒̅̌ͯ̌͊͡ͅS̷̨̡̪̰͓͍̬͙̯͓̥̬̞̳̯͎͙͚̑ͧ͂̈́ͤ̀̕T̶̛̠͍͓̭̺̫͇͎̗̫̝͇̻̘̆͂̾̋̽̊̇͑ͭ͋̃̏͂́́ͅȨ͖̗̠ͯ̊̂̈͆ͣ̏̋ͯ̑́̔̔̓͊ͣͩ͝M̵̲͕͎͖̭̘̫̝͕̼͙̗͈̯̦͖̈̿ͧ̈́͑̿͒̿͟ ̨̦̹͓̖̦̰͙̮͙̈́͂̿̂ͦ͘E̩̺̭͎̩̱̞̪͗ͣ̌̎ͩ̀̎͋̄̈̀͡ͅR̛͓̠̘͖̟̭̤͓̝̉ͤ̓ͤ̒ͩ̈́̓͜R̷̨̳͚̹̯̤̬̫̙̟̹̬̖͔̺͉͈̐̂ͬ͋̒́͠O̷͕̰͚͍͉̮͔̘̣͉̼̟̦̪ͣͥ̀ͧͪͯ͋ͥ̆͆̓̈́ͧͮͣ̃ͮ͐ͥR͉̩͙͙̤̫͍͍̖̲̓̊̑͌͌̀͑̓ͦ͐̅͐͒́͠ͅͅ ̸̹͓͚̖̥͍̝̻̰͓̱̝̭͉̈́̀̿ͦͨ̋͛́ͯͤͬ̏͋̊ͦ͑ ̧͊̏͂ͯ͐̒̎ͦ̇̐̋ͭ̇͏̘̟̠̬̭̞̫͓̰͘ ̨̡͎̜̘̹̬͇͍̠̲͎̤̗̘̻̔ͮ̓ͩ̉́̓͒ͦ̿̄͋ͬ͡ͅ ̧̡̤̠͔͉͓̙̤͎̖̖̰͔͙͚̞̰̻̯̈́̎̐ͪ̂̀ͭͫ̽̑ͪͧ̔ͣͥͦ͐́̕͜ͅ ̴̗̳̦̥̯̞͖͕̦ͪ̐̂̉̀́̓ͯ͌ͯ̊̄̈́̒̊̔̃ͪ́ ͧͪ̓̅ͨ͌ͭ͗ͦ̎̾͢҉̗̗͙̖̻̝̰̘̟͚̦̞̪
͂̐̐̎̈́ͭ͐̋̅͛ͦͭ̚͏̳̥̦͍̠̻͎̥͔̼͎͔͍̭̹̺͚̰̕ͅ
̽̎̑ͣͬͬ̊͋ͭ̓̏͏̢͏̵̫̗̯͚̖̼̘̼̰
Update:


Colour picker is fixed, so rejoice.

Colours in messages now seem to match the selected colour.

Archives now work.

Lag seems to be less prevalent.

Messages no longer get eaten.

Was that most of the issues solved for us?
I'll be around chox most nights, and I'm pretty reachable if I'm not.
_________________
̵̰͇̱̙̙̾͆͂͌͘ ̃̒̏͒̔͑͘҉̸͉̻̘͔̼̯̰͞ ̶̢̖̺̘̦͓̱͎̜̰͎͇͚̳̝̗̼̥̹̆ͯ͒͂ͦ̔ͤ̍ͭͩ̽̀͟ ̷̸̱̩̞̙̜̼͇̩̰̺̲̰̫̃͒ͪͧ̉̋̏̈̄̈̃̃̇̐̄̅͢͟͟ͅ ̴̣̲̭̙̖͇̭̣̪̰̟̦͕̳͍̼͚̰͔̿̐̋ͫ͛̈͊ͪͨ̓͢ ̛ͬ́͐̾ͧ̿̔̂̿̄̕͏̸͙͔̖͇͕͉̮̠̰͙͜S̨̛̯͚͉̠̤̗̠̥̰̪̠̰͈̹̦ͣͨͩ͂̊ͨ͒ͥ͗ͥ̕͝ͅY̷̧̲̠̲ͦͪ̌̒̅̌ͯ̌͊͡ͅS̷̨̡̪̰͓͍̬͙̯͓̥̬̞̳̯͎͙͚̑ͧ͂̈́ͤ̀̕T̶̛̠͍͓̭̺̫͇͎̗̫̝͇̻̘̆͂̾̋̽̊̇͑ͭ͋̃̏͂́́ͅȨ͖̗̠ͯ̊̂̈͆ͣ̏̋ͯ̑́̔̔̓͊ͣͩ͝M̵̲͕͎͖̭̘̫̝͕̼͙̗͈̯̦͖̈̿ͧ̈́͑̿͒̿͟ ̨̦̹͓̖̦̰͙̮͙̈́͂̿̂ͦ͘E̩̺̭͎̩̱̞̪͗ͣ̌̎ͩ̀̎͋̄̈̀͡ͅR̛͓̠̘͖̟̭̤͓̝̉ͤ̓ͤ̒ͩ̈́̓͜R̷̨̳͚̹̯̤̬̫̙̟̹̬̖͔̺͉͈̐̂ͬ͋̒́͠O̷͕̰͚͍͉̮͔̘̣͉̼̟̦̪ͣͥ̀ͧͪͯ͋ͥ̆͆̓̈́ͧͮͣ̃ͮ͐ͥR͉̩͙͙̤̫͍͍̖̲̓̊̑͌͌̀͑̓ͦ͐̅͐͒́͠ͅͅ ̸̹͓͚̖̥͍̝̻̰͓̱̝̭͉̈́̀̿ͦͨ̋͛́ͯͤͬ̏͋̊ͦ͑ ̧͊̏͂ͯ͐̒̎ͦ̇̐̋ͭ̇͏̘̟̠̬̭̞̫͓̰͘ ̨̡͎̜̘̹̬͇͍̠̲͎̤̗̘̻̔ͮ̓ͩ̉́̓͒ͦ̿̄͋ͬ͡ͅ ̧̡̤̠͔͉͓̙̤͎̖̖̰͔͙͚̞̰̻̯̈́̎̐ͪ̂̀ͭͫ̽̑ͪͧ̔ͣͥͦ͐́̕͜ͅ ̴̗̳̦̥̯̞͖͕̦ͪ̐̂̉̀́̓ͯ͌ͯ̊̄̈́̒̊̔̃ͪ́ ͧͪ̓̅ͨ͌ͭ͗ͦ̎̾͢҉̗̗͙̖̻̝̰̘̟͚̦̞̪
͂̐̐̎̈́ͭ͐̋̅͛ͦͭ̚͏̳̥̦͍̠̻͎̥͔̼͎͔͍̭̹̺͚̰̕ͅ
̽̎̑ͣͬͬ̊͋ͭ̓̏͏̢͏̵̫̗̯͚̖̼̘̼̰


Similar topics
---
Permissions in this forum:
You
cannot
reply to topics in this forum